Etiquette; My Way
Forget Emily Post and Miss Manners. After approximately 35 years as a quadriplegic, I am considering writing a book "Etiquette for Dummies: It's a Wheelchair Not a High Chair; Tips for Treating Individuals with Disabilities as Fellow Adults." Below are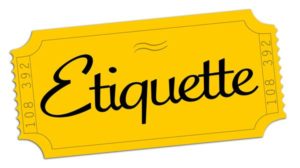 the top 10 etiquette issues that I have faced over and over again.
Number 1. Drinking through a straw; yep, I drink all types of drinks through a straw. Hot or cold; breakfast, lunch or dinner. I don't appreciate being warned when I am given something hot nd I ask for a straw. And I sometimes need to drink my soup through a straw. You can imagine how well that goes over in a fancy restaurant! But there are those who get it. One time when I went on a cruise, I was stunned when on the second night at dinner there were straws cut to size for my wine glass, water glass and coffee cup. The waiter got a massive tip and my gratitude.
Number 2. I bring my own plastic silverware everywhere I go because I cannot use metal silverware. It is too heavy and I cannot use my fingers. The majority of restaurants understand, but some waiters look at me like I am violating the cardinal rule of a perfectly set table.
Number 3. If I order wine, I ask for a stemless glass. One sip out of the straw and a glass with a stem will go flying. And, in my own home, I either have wineglasses that don't break or shop at Goodwill so that if I have true glass and it breaks, it's not the end of the world.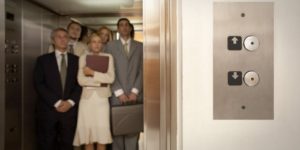 Number 4. Elevators are for individuals who need them; people with disabilities like me, the aged, those with strollers, or people lugging many suitcases. For their own convenience, people ignore the signs in the Metro. I'm not ashamed to push right to the front and tell able-bodied individuals to get out of the way, and this has happened almost every weekend when Tony and I go down to Capital One Arena for basketball games. It boggles my mind that if you have the option to use an escalator that you would actually use an elevator in front of someone who has no other option. And if you do choose to use the elevator, at least go outside of the elevator and hold it open with your hand so that the wheelchair user can get out without the door closing. Don't stand inside to hold it because you will be in my way and possibly get your toes run over.
Number 5. Consideration should be given to handicapped bathroom stalls and parking places designated for individuals with disabilities. A handicapped bathroom stall is not designed for people that do not need it. Even if there are no other stalls left, you never know if someone with a disability is going to come in and need the handicapped stall. And even if it is an emergency for the person using the stall, that is not an excuse. I may have an equal emergency. Once my leg bag was about to pop and I needed the bathroom ASAP and an individual was inside for what felt like an eternity. Similarly, disabled parking spots should be used by those who need them. It infuriates me to see someone without a handicapped tag parking in a designated spot. Every single day is filled with challenges when you have a disability. The last thing you need, especially when it is raining or snowing, is to have all of the disabled parking spots full and taken by people who don't need them. And my van opens from the side; those lines next to a handicapped parking spot are there to allow for a wheelchair ramp to unfold, not for someone to park "only for a minute."
Number 6. Don't we all love happy hour and the prices? I have been told at many local restaurants after entering and discovering that I am not able to get to the bar area because of steps, that I am not eligible for happy hour prices because I have to sit at a table with my friends in the restaurant area. I have tried not to make a scene, but I start with the waiter/waitress explaining the difficulty and it quickly elevates to the waiter or waitress going to talk to their manager. I have been successful on numerous occasions, but in some restaurants I have left and written a review on yelp because they were completely unreasonable. Seriously, all I want to do is spend money in their restaurant!
Number 7. I would be rich if I counted all of the times that I have been told that a venue is wheelchair accessible because there is "Only 1 step." Wheelchair accessibility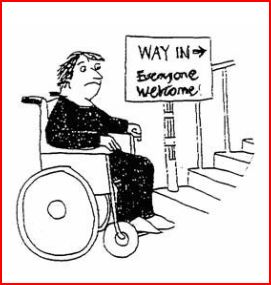 requires NO steps. More than once I have called ahead to ask if a venue is wheelchair accessible, have been told "sure," and have arrived with friends only to find that and I can't get in. This happened to me at a venue where a band was playing downstairs and there was no elevator and I was not informed when I called to inquire. So, of course, I couldn't see the band and I was humiliated. I wanted to crawl into a corner and hide.
Number 8. Travel when you have a disability is difficult, so it is important to take the time to relay everything you need to whoever is taking your reservation. And believe me, I go into extensive detail about the need for a wheelchair accessible room with an accessible bathroom and a roll in shower. Still, 9 out of 10 times when I arrive at a hotel, the room does not meet those requirements. In fact, many times I arrive and there is a tub instead of a roll in shower. Really? When things like that happen, I usually leave with a free night for my inconvenience but that does not make up for the fact that I couldn't take a shower.
Number 9. I don't know what it is, but for some reason individuals taking my order in a restaurant or on a line in a food court assume that I can't hear or understand because I am sitting in a wheelchair. Usually the person asks my friend or my attendant standing next to me, "What does she want," in a loud voice. I respond loudly by saying "She would like…" I am not a mean person and I like to give people the benefit of the doubt, but to be treated like I am stupid and ignorant when I am highly educated is embarrassing and rude. Also, a reminder. Using a wheelchair does not necessarily mean I am hearing-impaired. No need to shout.
Number 10. From beginning to end, traveling by plane is an ordeal filled with etiquette drama. On my most recent trip last April to the Final Four in Phoenix it was a nightmare. I was patted down all over and felt like I was being completely undressed by TSA. I was then carried by strangers onto a small chair and manhandled when lifted into the seat of the plane. My wheelchair was treated like a piece of trash and arrived in LA with broken foot rests. I tried to remain calm, but it was difficult to do so as I wondered whether the "quick fix" with a belt would last for the rest of my vacation. And the return trip was even worse. Afterwards, I questioned whether I would ever be willing to fly again.
As a result of my disability, I need to live my life differently and on my own terms. I shop, eat out, take trips and participate in my community. While I may do things differently, I am entitled to my own etiquette so that I can live my life like everyone else. If you are considerate, respectful, understanding, and kind to others you won't have to worry about etiquette.