2020 Breast Cancer Fundraiser Campaign
For the special livestream performance, Washington DC songwriter Eli Lev will be partnering with Happy on Wheels to raise funds for Co-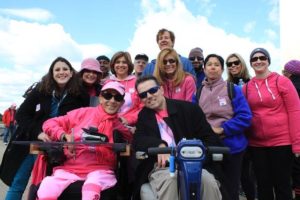 founder, Sheri Denkensohn's 10th anniversary of breast cancer survival and Making Strides Against Breast Cancer Washington, DC.
Tune in to hear uplifting songs and connect with the cause, Making Strides Against Breast Cancer Washington, DC American Cancer Society Making Strides Against Breast Cancer and the Thelma D. Jones Breast Cancer Fund.
Eli is not only a talented musician, but a true humanitarian. He performed at the Making Strides Walk three years ago and is willing to lend his time and energy for those in need. I guarantee you will become a fan.
My team, Undaunted Determination, is comprised of warriors who are breast cancer and other types of cancer survivors, honorees, family members, and friends. I know there are many worthy causes knocking on your door, but in honor of my 10th anniversary, I hope you can spare a little change to join us at the celebration on October 26 (likely virtual), be on the team, and most importantly support individuals who are facing life and death decisions as they deal with the challenges of COVID and cancer. A study just released highlights that the combined medical and financial stress of this pandemic has resulted in nearly half of cancer patients (of all types) saying that COVID has had a moderate or major effect on their mental and physical health.
Together, we can make a difference!
Links for livestream:
Donations gratefully accepted:
http://main.acsevents.org/goto/undaunteddtermination10
OR