Happy on Wheels Cooks
On this page, we hope to provide information and recipes that you will find useful and adaptable to your own dietary needs/requirements.
I do have different options in the kitchen, so some recipes will use an oven, some will use a stove, some will use an air fryer, and some will use an Instant Pot (or InstaPot as it's sometimes referred to).
I'm still debating how to best format this. Should I just do it as a blog-type page and list everything, or should I use links to different pages according to the type of recipe? I don't know exactly what I'll do; if you have any thoughts about this, please send an email to info@happyonwheels.com. Thanks. For now though, I'm just going to use a blog-type format.
Also, please note that I am not taking credit for all these recipes, if I made the recipe up, I will say so, but for other people's recipes, I will give their name and contact info if known.
---
Pizza
I know that, in most cases, we start off the New Year by celebrating with a very fine meal, this year, however, we had a lot going on so we just decided to take it easy and have our celebration with good food in a few days. I'll write about that next month, but for now I'll write about what we did last night for dinner because it is good and so easy.
We had homemade pizza. Granted, I just use stuff that is ready to be used/eaten, so a case could be made that it is not exactly homemade, but I think it qualifies.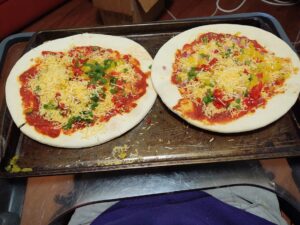 Anyway, I start with a pizza crust that is made by Schär. We find them at Giant, but you could also order them online. We use gluten-free crusts because Sheri is sensitive to gluten, but you can use a different kind. The Schär gluten-free crusts taste like regular in my opinion.
Next I spread the sauce on the crust and add the cheese. The sauce we use is Rao's Pizza Sauce (you can also find that online) and the cheese we use is just regular or vegan cheese from Giant. Finally, add whatever toppings you want. We use peppers that are precut, but you can use any kind you want. If you want meat, then add away! I've used meatballs (frozen meatballs that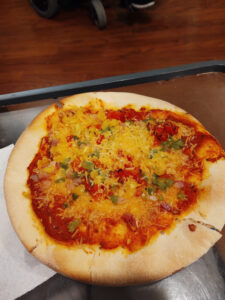 are cooked), prosciutto, ground beef, pretty much anything you want.
Than you just bake it in a preheated oven at 410° for 10 minutes (more if you want it very crispy). It's difficult to get easier than that!
---
French Fries Made in an Air Fryer
The air fryer is a fairly recent addition to our kitchen and it makes French Fries in a healthier and much less dangerous way because it does not involve boiling oil! While I am still getting a handle on this new machine, I think it works well and does a better job for me, because it doesn't involve reaching into a 400° oven! After reading a lot of different recipes, I am getting better at it, but it is still a work in progress; and it's never a bad thing to have to eat a bunch of French Fries that didn't come out quite right!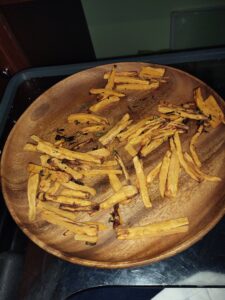 I took a little information from here and a little from there, and just play around. I think soaking the Fries in water makes a huge difference and many of the recipes I read had you cooking the Fries twice at two different temperatures. So, here's what I'm doing now, and you can take this and play around with it until it's good with you.
I usually start with two white potatoes. I've also used sweet potatoes, but they are so much harder to cut, that I tend to just stick with white potatoes. Personally, I like to peel the potatoes rather than having to thoroughly wash them and the French Fries I like are usually skinned anyway. Then I slice the potatoes into Fries and then soak them in plain, cold water for at least 20 minutes (I've seen recipes that say to soak them overnight, but I've not tried that). Apparently, this step removes starch and will help the Fries come out crispier.
After they have soaked, I put them in a big plastic bowl and add some oil and seasonings (I use salt, pepper, and paprika as well as anything else I feel like using). Then I lay them in the basket of the air fryer, trying to minimize contact between Fries, but it's not a deal-breaker if they are touching.
Then cook them for 7 minutes at 370°, then increase the heat to 400° and cook for 5 more minutes. Times are always relative as you know your air fryer better than I do, so it may be a bit shorter or longer for you. And the worst thing that might happen if they don't come out right the first time, is that you have a great snack!
---
Cold weather makes us all want comfort foods. One of my favorites is a very simple sweet and sour meatball dish that has a total of 4 ingredients and you can just throw everything together into the slow cooker and let it go for about 5 hours!
Ingredients:
• 12 oz. jar of chili sauce
• 10 oz. jar of grape jelly
• 3 tbsp. lemon juice
• 30-50 frozen meatballs (personally, I use Cooked Perfect Italian Style, but any kind of frozen meatball would work)
Here are the exact directions I received from My Mom: "Stir (first three) ingredients together in a crockpot; add meatballs; cook on low for 4.5-5 hours." That's it. You can't get much easier than that! And they are really good for cold weather and football games.
---
This is one of our favorite Instant Pot recipes. It comes from Delish.com and on that site it is attributed to Makinze Gore. Below is the recipe straight from Delish, and I will note changes or alterations I made to accommodate our dietary or accessibility needs in parentheses.
4 bone-in, skin-on chicken thighs, trimmed (I used boneless, skinless breasts chopped into bite-size pieces)
Kosher salt
Freshly ground black pepper
1/4 c. plus 2 tbsp. extra-virgin olive oil, divided
1/4 c. low-sodium soy sauce
2 tbsp. honey
1 tbsp. sesame oil (I did not use sesame oil because I did not have any! It was fine without it, for me, anyway)
2 cloves garlic, minced (I used just a few squeezes from a tube of squeeze garlic)
Juice of 1 lime (I just used a squirt or two of lime juice from a bottle)
2 green onions, thinly sliced (in most recipes that call for onion, I just use a few squeezes from a squeeze tube of ginger)
Pinch crushed red pepper flakes
1 tbsp. cornstarch
Toasted sesame seeds, for garnish
Directions
Pat chicken dry with paper towels and season well with salt and pepper on both sides. Set Instant Pot to Sauté function and add 2 tablespoons olive oil. Add chicken, skin side down and cook until golden, about 3 minutes then flip and cook 3 minutes more. Work in batches as necessary. Turn Instant Pot off of Sauté function.
In a medium bowl, whisk together remaining ¼ cup olive oil, soy sauce, honey, sesame oil, garlic, lime juice, green onions, and pinch of red pepper flakes. Place all chicken in Instant Pot and pour sauce over. Lock lid and set to Pressure Cook on High for 10 minutes.
Follow manufacturer's guide for quick release, making sure to wait until cycle is completely before, unlocking and removing lid. Using tongs, remove chicken from Instant Pot and set on plate to keep warm.
Ladle out about ¼ cup of sauce from Instant Pot and whisk in cornstarch. Pour liquid back into Instant Pot and set to Sauté function. Let sauce simmer until thickened slightly, about 5 minutes.
Pour sauce over chicken and garnish with green onions and sesame seeds and serve over rice.
---
This is a marinade that I made up by just using various spices and/or condiments that we had in our kitchen cabinets . One thing I have learned about marinades is that you rarely ruin them by substituting ingredients . That's certainly possible, but you should feel free to try your own and if it doesn't taste good, you do it differently the next time!
Honey Turmeric Marinade
1/2 cup avocado oil (you can substitute any type of cooking oil, avocado oil is just what we use)
1/2 tsp salt
1/4 tsp ground black pepper
4 drops of Ginger oil
1 heaping 1/2 tsp of turmeric
1 splash organic tamari sauce (considered the same thing as gluten free soy sauce)
3 tablespoons organic raw pure honey
Makes enough for 3 large boneless, skinless, chicken breasts or 2-3 medium sized pieces of fish (we have tried it on scallops, salmon and snapper). Score the chicken or fish (I just use a steak knife), so the marinade goes inside. Put over and let it marinate for at least 10 minutes, but up to a few hours is fine, then bake at 450 degrees for approximately 15 minutes.
I have an instant read thermometer to check ensure that whatever I am cooking is completely done and not undercooked. Chicken should have an internal temperature of 165° and seafood 145°.
Please note that after 15 minutes a very small bit of the bottom of whatever you are cooking, will turn very dark and look like it has burned, but it is the honey that has burned, and not the chicken or fish.