Rolling Against Breast Cancer
Sheri Denkensohn-Trott: Sheri participated in her first Making Strides "roll" in October 2010. Sheri has been a quadriplegic for over 34 years, paralyzed from the neck down as a result of a diving accident, and therefore uses a motorized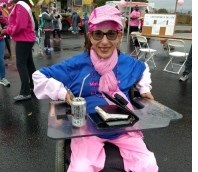 wheelchair. She is also a seven-year breast cancer survivor- diagnosed in July 2010, had surgery in August and was introduced to MSABC through her sister-in-law who heard about it from a breast cancer navigator when she went for her yearly mammogram.
"Being a part of MSABC has been a game changer for me," says Sheri. "I have met wonderful people, interacted with strong survivors, and made lifetime friends. It connected me to a network of those who have lost friends and family to breast cancer and those that continue to fight each day."
Sheri's first efforts of fundraising started mainly through email and Facebook. She became a Pacesetter her first year, and has continued to be a Pacesetter every year since- raising over $50,000 in her seven years of being involved! "It takes diligence and a lot of time to sustain the fundraising effort, but it is well worth it," says Sheri.
What's her secret? Passion for the cause, as well as her own story as a quadriplegic and breast cancer survivor. Her passion and story has attracted others with breast cancer to join her team, Undaunted Determination, and many of her team members have also become Pacesetters.
Sheri continues "None of this can happen without a wheelchair accessible venue, and MSABC in DC has ensured that accessibility is not a problem. Many of my friends that use wheelchairs, including my husband, have joined me for the roll. This is a universal fight and impacts people from every demographic, including individuals with disabilities. As a woman with a disability, American Cancer Society Ambassador, and Pacesetter, I say to everyone, "you can do it!" Let's keep rolling on!"