Feeling the Vibe
Author: Tony Trott
I never thought that I would be involved in choosing colors of paint. But this August, before we left for a month away, Sheri and I were into full-blown preparation for painting. After 15 years, our condo showed the effects of wheelchair living. Black streaks on the walls, banged up doorways, and dents in the drywall. It was time. Plus, we wanted to do it when we were away because everything had to be packed up and two wheelchairs and painters with all their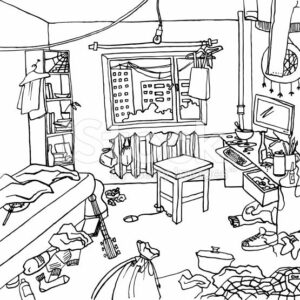 equipment would make for quite the comical scene. OK, that picture isn't exactly what are place looks like, but I thought it was kind of funny!
I never knew that it would take so much work to plan painting. First, we wanted someone reliable. We interviewed and got bids from six painters, and at one point were so confused as to who was coming and going that we thought one of the painters was a wheelchair repair man! He tried to fix Sheri's wheelchair, and we soon realized when the doorbell rang and the real wheelchair repair man arrived, that our so-called "wheelchair repair man" was actually a painter dropping off a bid. At that point we realized we needed a spreadsheet, so I made one with the names of the painters and their related information.
Next was choosing colors. I wonder about the people that get hired to name the colors. And there is every shade available. Our condominium was completely bone white (except for the master bedroom), and we wanted to add some color and paint that could be wiped when there was a mark. We must have made at least five trips to the paint store and we had squares of different color paint all over the place. We were choosing colors that would meld with a painting that I gave as a gift to Sheri. A beautiful oil painting by my sister with vivid greens, yellow, and reddish colors.
After much deliberation, and consultation with close friends and especially my mother, we decided on the paint colors. Lemon Twist for the powder room; Green Vibes for the kitchen, living room, dining room, and hallways; Radish for an accent wall near the terrace; Romaine for the second bathroom;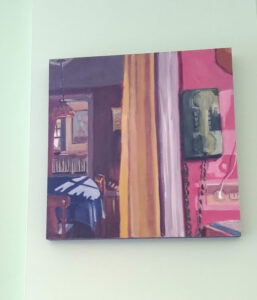 Trinket for the second bedroom; and Bone White for the office. Our bedroom was Undercool, the same blue color it had been.
We arrived home to a condominium that looked like new and we love the colors. It is not so easy to change colors so you pretty much better like the outcome. Because we work out of our home, having colors that make us happy, feel good, and set the tone for each day is important. We are very happy that we accomplished this task and can bask in the vibe.