The Newcomer
Author: Sheri Denkensohn-Trott
With my devotion to a consistent exercise regime, I was nervous about our trip to Rehoboth for a month and my ability to maintain my strength. Additionally, my body has become used to exercising and I didn't want to "take a break" just because I was not at my regular gym. I am familiar with my instructors and have made friends with other participants. I am not self-conscious about my methodology of doing whatever I can and being the only wheelchair user in the class.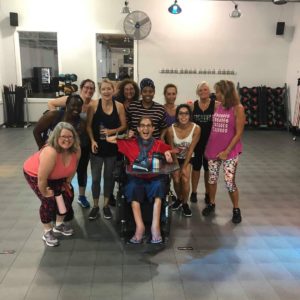 After we arrived at Rehoboth, I looked up gyms in the area. I found one not far away and we went over. I purchased a flex pass, meaning that I could use it whenever I go to a class and anybody else can also use the pass. That way my attendant and Tony had the ability to also take classes. I looked up the classes and saw that there was one called "Dance Mob" on Tuesday and Thursday evenings at 6:30 pm. The description was similar to zumba classes I'm taking at home in Arlington with the addition of darkened room and a disco light. For a girl of the 80s, what could be bad?
I arrived at my first class and realized that once again I was back to square one. The feeling of self-consciousness overcame me. What would people think? Had they ever met a quadriplegic? Would they stare? Would I distract the instructor? I knew internally that I was being overly worried, but that did not stop the little voice in my head.
I went inside, introduced myself to instructors Janet and Dawn, and told them that I didn't want to be a distraction and they should just go ahead with their moves and I would adapt. I know I shouldn't be surprised, but I was when they smiled widely and greeted me with a warm welcome. The members of the class were similarly kind. They asked if I had enough room, offered to help me with my drink, and asked questions about where I was from. And I didn't get any of the "oh you are such an inspiration" remarks that I was also worried about receiving.
I also took a second class on Monday mornings with a great instructor named Kevin. He looks like the last person you would expect to be leading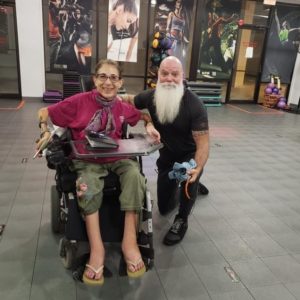 an exercise class called "Dance Mob" but it was unbelievable. We were exercising to the Dave Matthews band, Green Day and other more nontraditional dance music. It was beyond enjoyable and opened my eyes to a whole new way of exercising.
Again, Kevin was delightful and welcoming. Members of the class greeted me each Monday with smiles and camaraderie. And Kevin and I also became friends. We had much in common, including the fact that I am a breast cancer survivor and he cared for his mother for 12 years as she suffered with on-and-off recurrence of breast cancer.
Ironically, I will be sad to leave after my Thursday evening class. I have formed a new group of friends in a new location. This experience has exposed me to different methods of exercise and I have realized once again that I don't need to be embarrassed. We are all there to just move, get in shape, and have a good time.