Just Roll up to the Bar
For individuals that do not use wheelchairs, sitting at a bar where it is elevated and surrounded by stools is a natural setup. However, as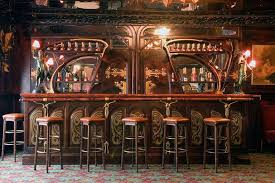 a wheelchair user, it is not so simple. In fact, rolling up to the bar usually means that only the top of my head is visible to the bartender. I have to back up and yell for the bartender or ask a person sitting on a high stool to get the attention of someone behind the bar so I can order.
Then comes the tricky part. I use a tray attached to my wheelchair, but most people do not. As a result, when the bartender places the drink on the bar, there is a strong likelihood that reaching up to grab it will result in the glass spilling or falling. For me, having limited use of my arm and no use of my fingers makes it is impossible to reach up to put the drink on my lap tray. It is not an enjoyable or relaxing experience. At most restaurants that have a bar, we go directly to the table. That eliminates the fun of being able to have a beverage and/or snack while watching the TV's at the bar (usually sports) and interacting with others. This can also become a frustrating experience during happy hour when the waiter or waitress refuses to provide happy hour prices because we are not sitting at the bar. You can imagine how that conversation goes!
Recently, our family went out to dinner at Eddie V's in Tysons Corner, Virginia. My husband and I had finished our shopping and we had about an hour before our dinner reservation. And, we wanted to watch the end of the Georgetown vs. Syracuse men's basketball game. We rolled to Eddie V's and figured we would find a relatively accessible position near the bar where we could see the television and hopefully get a drink. We never expected to have an experience that would more than exceed our expectations.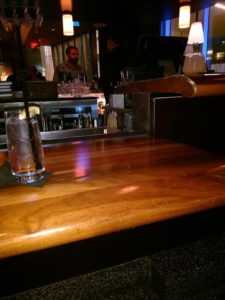 We entered the restaurant and told the hostess that we had a reservation but wanted to be near the bar for an hour. She asked us to follow her and we took us on a route all the way around to the other side of the bar. I thought to myself, "Why is she making this so difficult by having this go all around the bar?" When we arrived at the other side of the bar, the bartender, the hostess, and another individual asked three people to move and took their chairs away. I began apologizing for making it inconvenient for the folks that were being moved. They were very nice about it, but I still didn't understand the purpose. Then, out of nowhere, two of the guys moved some glassware and voilà, they lowered the bar to wheelchair height. Total mouth drop.
We were in heaven. The bartender could easily take our order because he could see us at eye level and he immediately changed the television channel to the basketball game when we asked. The bartender could easily reach us to give us drinks and it was easy to have a conversation. My husband and I were so excited that we started taking pictures and texting them to friends that are wheelchair users. We had never seen a set up like this where the lower part was connected to the entire bar. Simply put, it made us feel "normal" sitting at the bar.
Soon after, my family arrived at the bar to find us smiling from ear to ear at the lowered area. They were able to sit down next to us, and order drinks and appetizers. We were able to have a conversation and enjoy our time together before moving to the table for dinner.
This experience reinforced to me that it is possible and feasible for restaurants to accommodate individuals with physical disabilities at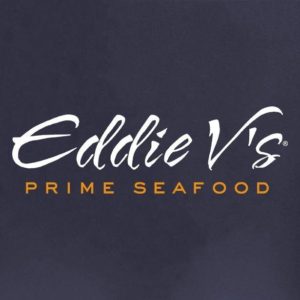 the bar. And it makes business sense. In addition to telling our friends, we plan to go back soon and sit comfortably at the bar. I intend to find out more about the initiative taken and research involved with designing and installing this bar. Eddie V's hit the mark and should be recognized for being inclusive and wheelchair friendly. Cheers!