Nothing Else Matters If You Are Hungry
For those that have been following us, you are aware that we have 'adopted' an orphan from Sierra Leone. For those that have not, you can hear about The Orphan Feed Foundation (TOFF) . Regardless of whether you are new to the subject this piece will give you history about the reasons for the hunger crisis in Sierra Leone and efforts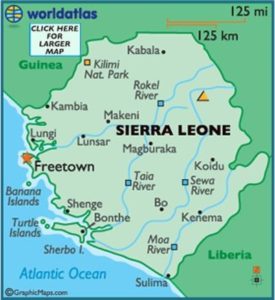 by TOFF to make inroads into addressing this problem.
All of my personal assistants are from Sierra Leone and my main caregivers have been with me for over 25 years. As a result, I feel a deep connection to their roots and their country. Officially called the Republic of Sierra Leone, it is located in West Africa, bordered by Guinea to the northeast, Liberia to the southeast and the Atlantic Ocean to the southwest. Sierra Leone is a small country that covers approximately 28,000 square miles with a population of a little over 7 million according to the 2015 census. Sierra Leone became independent from Great Britain and Northern Ireland in 1961, and currently has a directly elected President and a unicameral legislature/parliament.
The history of Sierra Leone has been fraught with an abundance of political and health crises throughout the decades following its independence. A culture of bribery and mistrust in the diamond industry; a devastating coup in 1991-2002 that left over 50,000 people dead, hundreds injured, others with life-threatening disabilities, and trained children militants maimed and addicted to drugs; estimates of close to 40,000 individuals impacted by HIV /AIDS; the 2014 Ebola outbreak that overwhelmed the healthcare infrastructure and resulted in 3,000 deaths and approximately 10,000 cases of the disease, including additional deaths not related to Ebola itself; and horrific mudslides in the past two years that killed and displaced so many residents that it is impossible to count. The country has a life expectancy of only 57.8 years. Mental health care is almost nonexistent. The maternal mortality rate is the fifth highest in the world and as of 2014, Sierra Leone had the 11th highest infant mortality rate in the world. Nearly half the population is undernourished as direct access to drinking water is extremely limited, especially in rural areas. The staple food is rice. In 2017, according to Global Finance Magazine, Sierra Leone ranked 14th in poorest nations in the world based on gross domestic product, with 80% of the population living in poverty. With this backdrop, according to UNICEF, the number of orphans in the country is approximately 310,000. That does not take into account children who have a living parent(s) unable to care for their child and willing to give him/her away.
Through her trips back and forth to Sierra Leone, my assistant Aminata (Amy) began to witness the increase in the number of displaced children. She saw them begging on the streets of Freetown, the capital, and had parents coming up to her knowing that she lived in America and begging her to take a child because they could not feed their family. A turning point occurred when Amy visited during the Ebola crisis. She got a call from a friend that a 13-year-old mother died of hunger and gave birth to a little boy. The aunt was on the street with the 3-day-old baby wrapped up tightly in dirty towels. Amy came after receiving the call and the aunt begged Amy to take the child from her, stating that otherwise he would die. Amy reluctantly took the little boy, not knowing what she was getting into, and committed to seeing if she could bring him back to life. This was the impetus that formed the seed of TOFF.
In an orphan feed on New Year's Day, 2018, TOFF provided rice, bread and a drink to approximately 1,200 children, expecting that only about 500 would show up. It did not make a dent in the large group left on the line who were unable to receive anything because provisions ran out. Young children were scraping the pots and putting remnants in plastic bags so they could take it home to their starving families. Some received nothing. Those that attended wondered if Amy and her large group of volunteers would be back the next day to feed them again.
So as to not get buried in despair, TOFF is trying one step at a time to assist orphans. Focusing on the 1% that were fed is the only way to keep moving forward. The next effort is to have individuals contribute to and sponsor children that can be cared for in existing homes and eventually acquire land and build an orphanage with the capacity to care for numerous children.
It is true that a picture speaks a thousand words. The stories of each child in the picture below underscores the overwhelming impact of poverty and lack of food and the resulting increase in the orphan population. That, coupled with a culture that does not believe in or receive education on family planning, creates a dynamic that resembles trying to block a hole with a rush of water coming through. Without systemic and political change, children will be abandoned and possibly die and families will continue to have children that they cannot feed or care for. But that does not mean that it is worth giving up.
Let's meet some children that are lucky enough to be cared for and sponsored. Amy is in the orange housedress. It is early in the morning and the children are starting to eat their breakfast and wait for the remaining food. Charlie, the orphan that Happy on Wheels is sponsoring, is on her lap. He is 17 months old and abandoned by his mother. His father begged that he be taken in because he is old, has no job and cannot provide for his son. To his right is Justice, the baby that Amy was given on the street. He is almost 3- years- old, healthy, happy and attending school. In the pink dress behind Justice is Julie. Julie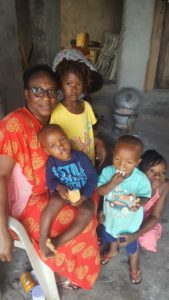 is one of three children and has no father. Her mother works for a restaurant but never gets paid. She survives on minuscule tips. She is smart and has the capacity to do more. TOFF is trying to help her get space and have her own restaurant in Freetown so she can make a living and provide for her children. In the meantime, TOFF is caring for Julie, 8- years- old, and ensuring that she attends school. In the yellow shirt, behind Amy is Rebecca. She is 9- years- old. Her mother had 13 children and four died. The mother cannot provide for the remaining children. She begged Amy to take them all, but as of now TOFF does not have the capacity. So Rebecca is lucky enough to become part of the "crew" and is also attending school. These four children are part of a group of 22 now being supported by TOFF through donations and other funding. Merely having clothing, healthcare, clean water and most importantly food, has resulted in a completely new identity for each child. Most remarkable is the physical and mental change that each child exhibits when they are fed. Hunger was a way of life. The schedule of three meals a day is like a magic dream. One can only imagine the thoughts in their minds when they know after going to sleep that there will be food to eat in the morning.
The commitment of Happy on Wheels to support Charlie has brought us joy and the opportunity to make a positive impact on the children of the world. It aligns with our vision of inspiring people to live happier lives. If you are hungry, the concept of happiness is substituted with a feeling of despair. While only a small gesture, we can make a difference one child at a time. Seeing the smiling face of a healthy child is transformational. A child that is no longer hungry has the opportunity to experience happiness.