Author: Sheri Denkensohn-Trott
After being injured for 38 years and getting a new wheelchair at least six times, you would think that I would remember the horror. But my mind blocks it out. It is an exercise in patience, innovation, and a whole bunch of frustration. See, everything is all connected. You are probably wondering what that means. I'll explain.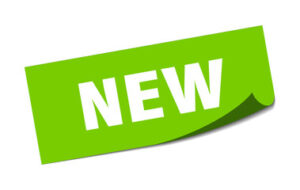 You start by getting measured for any wheelchair. Getting the intake scheduled for this is not difficult, but usually the slots are hard to get. When you call, you are likely going to get an appointment 2-3 months later. At the appointment, a physical therapist and a wheelchair vendor meet with you to determine the best chair available. This changes over time as technology improves. So, you can't change to the exact same wheelchair. Additionally, over six years or so, your body changes. It is common to need more supports on your trunk, different types of leg rests, and other new controls and useful technology that are available.
Once you leave the intake, the physical therapist writes a justification of medical necessity to the insurance company. More waiting. After what is likely to be another couple of months, insurance will either approve or deny your chair and cushion. Luckily, I have not had insurance deny any of my wheelchairs. I think that is because I drive them into the ground knowing that changing to a new chair is an ordeal. That is sort of a tricky and dangerous thing to do because many times I have had my chair break down and not have parts to replace it, so I am forced to order a new chair.
The next part is the worst. You would think that it would be a great occasion to see and use your new chair. It's quite the opposite. It is not like driving a new car out of the dealership. Your body is used to the chair you are in. It is easy to maneuver. It is like an old friend. As soon as you are transferred into the new chair, it seems like your body is not you. Personally, I find it to be incredibly difficult. The armrests need adjustments. The footrests need adjustment. The joystick driving control usually needs to be adapted so I can use it. And then I need to learn how to drive an entirely new chair.
It doesn't stop there. My chair locks in place so I can sit in the passenger side of my van. But when you get a new chair, you need to replace the lockdown and put the bolt needed for it on the new chair and redo the lock in the van to safely fit because every chair is different. That entails hours at the van adaptation company. Long days of just sitting and waiting.
And then the next problem. It is always the case that a new chair does not fit with your current desk height because every chair is a different height. That means either figuring it out yourself or bringing in an ergonomic specialist to assist in coming up with a desk configuration that is useful and can be used independently.
By this time, frustration sets in. There is a time frame when I could not go anywhere in my van because it wasn't yet adapted, couldn't use my desk for my computer because it wasn't finished, and my new chair seemed uncomfortable and strange to ride in. I wanted to tear my hair out.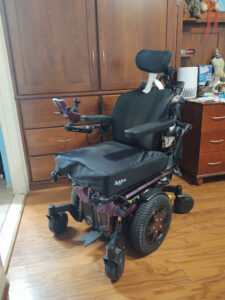 After about three months, I am finally making friends with my chair. I'm more comfortable driving it. My van lockdown works. And I can utilize the computer easily and do my work without being uncomfortable.
I hope I remember this long period of frustration when it is time to get my next chair. I'll save this blog so I can read it. Once you start the process, brace yourself. You are in for one heck of a journey.