I Am Bigfoot
Author: Sheri Denkensohn-Trott
You may think from reading the title that I am a big scary monster. Believe me, there are some days that my attitude can be characterized as monster like if you ask those around me. My "big foot" is caused by serious lymphedema in my left ankle and foot. I've always had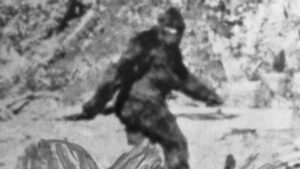 trouble with that side of my body, likely as a result of the way I sit after 37 years in a wheelchair.
Towards the end of the summer the swelling in my left ankle and foot did not go down overnight. I became unable to wear any of my shoes, even the largest pair. And yes, my closet houses all shapes and sizes of shoes to fit the nature of my swelling and the season. My legs usually swell during the day but by putting them up on pillows at night they are all wrinkled in the morning, as if I had spent the evening and night swimming in a pool. And while putting my feet up during the day is an option, it is difficult to maneuver around the condo and fit under my desk. Besides, because of the degree of swelling, my left leg would not benefit from that easy treatment.
It is not a cliché to say aging is not for sissies. Especially when you are quadriplegic. My first visit to the lymphedema clinic at the local hospital was beneficial. I work with a great physical therapist and she explained the additional training needed to become a lymphedema specialist. She has been doing this work for over 15 years and brought out an anatomical picture of a leg and explained how the lymph glands work with the veins and other muscles in the leg and what happens when the lymph fluid no longer moves as a result of lack of push by the "next-door" vessels and the steep gravity from foot to heart. A variety of conditions can cause lymphedema. For me it is my tired veins in my left ankle and leg that are starting to wear out, creating a problem with moving the lymph fluid in the local area.
During my first visit Michelle told me not to worry. She wrapped my leg with cotton wrap and gauze from the foot almost to my knee and put foam cushioning underneath. She explained that she was using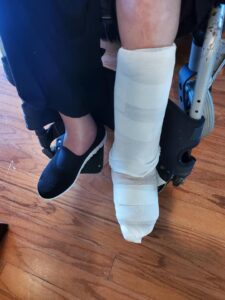 all soft low-pressure bandages because anything small and tight would push the fluid up and it would pool elsewhere instead of going away. That is why my leg is so big and why do so many people look at me and think I'm in a wheelchair because of my foot. Sorry, it cracks me up.
To complicate things, and I'm not sure whether it is the chicken or the egg, I have a wound on the front and back of my left big toe that was either caused by the lymphedema or was exacerbated by it. Either way, I'm dealing with two separate issues that are connected.
I am no stranger to the wound clinic and when I first arrived to deal with my toe, the fabulous staff was ready to use the lift to put me in bed assuming I was there for a pressure sore. The good news is no pressure sore, but the bad news is that they had to deal with the sore on my toe. Not a pretty sight. But Janice and her crew are amazing, and they are always fun to see. Although when I see them, I joke that I wish I didn't have to.
I have a set routine like clockwork. Twice a week I go to the lymphedema clinic and every other week one of the visits is joint with the wound nurse practitioner and the lymphedema specialist. They are great about making sure that appointments are coordinated. That sounds simple, but in many cases coordination of two busy specialists is a nightmare.
I keep hoping that this will be over soon as the cold weather arrives. I am limited in what I can wear because I need the expandable legs of sweatpants (I own very few big legged pants) to fit over my big foot. Even though we are in a pandemic, my blue jeans are calling me. Additionally, it will be nice to wear shoes again. I spend most days inside and nobody sees my feet during a zoom call, still, I yearn for my sneakers.
I hardly recognized my slim looking left ankle and the toe healing that is taking place. I joke that while it is annoying to go for treatment for a huge foot full of fluid and a toe wound, it does give me a reason to go out twice a week. It has also helped me to finally conquer my masking issues. I wear two masks because one mask moves off of my nose and only covers my mouth. I'm Jewish; it doesn't make sense that my nose isn't big enough.
When I arrive at the hospital, I quickly answer the COVID questions before they are even asked, get my temperature taken, and roll away with my "beautiful" wristband that states my destination. Check-in for the appointment is done electronically beforehand and my co-pay keeps ratcheting up in total dollars. I try not to focus on that.
While I'm looking forward to getting rid of my big foot, it will stop two trips per week out of the house. I will miss my fun discussions with Michelle and Janice, and I realize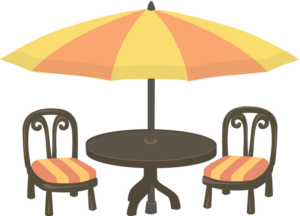 that I'm lucky to have smart and caring specialists close to where I live. I wouldn't mind another reason to safely go out and even though Michelle and Janice are great, I'm hoping for safe visits with them in another location.