I Was Thinking…
You know what? I am not required to always blog, talk, or even think about things from the perspective of a person who uses a wheelchair. Although I do use a wheelchair about 95% of the time, it sure as heck is not the main aspect of my life.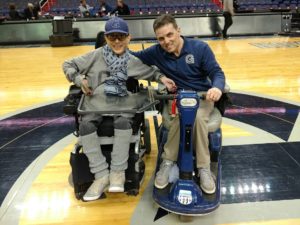 If you follow Happy on Wheels on Facebook, Instagram, Twitter, subscribe to our newsletter, or even just visit our website from time to time, I'm relatively sure you have noticed that we're big sports fans. Pretty much all sports, but especially NCAA Basketball. Now, I readily admit that NCAA Basketball has some issues, but at this point, those issues aren't enough to make me give up the sport.
For us, watching college basketball in person or on TV serves as a source of energy and fun. Going to Capital One Arena to watch the Georgetown men's team play for a few hours is such a release and escape! I don't have to worry about my condition and its progression. I can simply focus on the game and whether or not the three-pointer that the player took from the top-of-the-key was ill-advised! In those moments, I am not a person who uses a wheelchair, I am just another fan!
It sounds like a cliché to say that you can just forget all your problems by focusing on basketball, but it is true for us. Problems, which are quite abundant in the country and world, do not go away but for a few hours take a backseat and that helps us be happier. A few years ago, Sheri's Dad, an avid basketball fan, told her that he was so glad we had season tickets to Georgetown Men's Basketball because he recognized how much we found the games to be important because of the release/escape factor. I completely agree.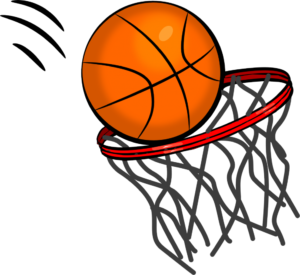 Hopefully you can find something that can serve as a release/escape for you; participating in or watching sports is a good one, but it is not for everyone. The activity can be something as simple as reading, exercising, going to a museum, a play, a concert, a ballet, or even just watching a movie or favorite TV show. Here's hoping you can find something that works for you.