In Case You Hadn't Heard
There was an eclipse recently. It was quite the event and even to the un-astronomically inclined, it lived up to its hype. It made me think though about other events that get a lot of hype and don't always turn out so spectacular or fulfilling. Even when what you expect does not live up entirely to your expectations, there is usually at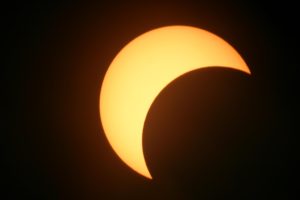 least some small sliver of light that you can focus on and nurture so it grows into something that, at least, resembles the hype. Is that an easy thing to do? Heck, no, but will we be happier if we do it? Heck, yes!
Last May, I was diagnosed with a condition called toxic-mega colon. At the time, I was told that there is no surgery to "fix" it, and the condition is life-threatening. We had to cancel a planned trip of a lifetime (yes, much-hyped!) with family and friends to the Grand Canyon. In the interim, I found ways, working with my doctor, to help with this condition so I could live as comfortably as possible.
After this diagnosis, and canceling the trip, many days felt bleak and at times I found it difficult to be happy. Then, without expecting it, an opportunity to do something amazing arrived in our mailbox. We received an invitation to a good friend's wedding out on the West Coast in late March of 2017 and the wedding was the weekend before the Final Four in Phoenix to which we had scored tickets about a month before. My friend's wedding was a once-in-a-lifetime occasion and the timing was perfect. I would have the chance to visit some of my many friends out in California, and the Final Four was Bucket List material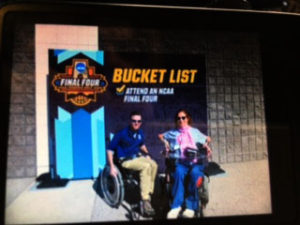 ! It had been so long since I had been to California and I had never flown with my powerchair, so there was cause to be nervous. However, I was determined to do it!
For both my husband and I, this trip provided us with something positive to focus on instead what felt like everything in life revolving around my condition. Planning the trip took an extensive amount of time; three different hotels (all of which required multiple phone conversations to confirm wheelchair access and roll-in showers), and transportation had to be arranged. Thanks to the help of the great friends we attended the Final Four with, we scored a fantastic Airbnb in Tempe with a roll-in shower. And it was great! While my flying experience could've been better (I have already written about that), the trip w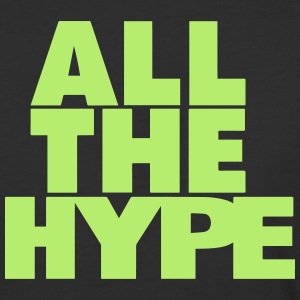 as certainly worth the effort and every bit exceeded expectations. It lived up to all of the hype!
What I have learned is that when presented with an opportunity to do something that is a once-in-a-lifetime experience, and you can make it happen, do it. Focusing on a positive distracts you from the negative because it keeps you busy and happy. And if you are lucky, it will live up to all the hype.