Same Place, Different Chair
In April, 1984, I returned to my home in Accord, New York following 8 months of rehabilitation in Westchester, NY after my spinal cord injury. I was 16 years old and a quadriplegic. Returning to my hometown was very hard. My parents had renovated our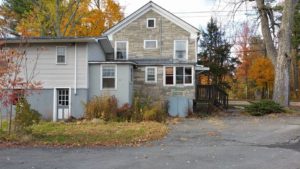 house so I could have a bedroom and bathroom on the main floor (we installed a lift from the garage); and my town was very rural, so getting around was quite difficult. I had a power-wheelchair and van on order, but until both arrived I was using a manual chair and had to be pushed and my father was lifting me in and out of his car. Bottom line, my ability to get around outside of our home was extremely limited.
I had the honor of being chosen, despite the fact that I missed my entire junior year of high school, into the National Honor Society. So, at the end of April my father transferred me into the car and we drove off to the high school for the induction ceremony. I did not want to go. I was scared, anxious, and emotionally distraught about returning to my school. I was completely different but everything else around me was the same. And driving into the high school driveway felt like entering a nightmare. I had originally expected to be returning there in August 1983 to start training for my field hockey season, not arriving as a quadriplegic in April 1984.
My father parked the c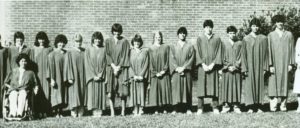 ar and lifted me into my wheelchair. As he pushed me toward the high school doorway, I was sobbing saying over and over "I don't want to go, I don't want to go." But he kept pushing me. As we approached the school, I tried to stop crying and smile and say hello to everyone that was crowding around me. I don't remember anything about the ceremony and, in fact, my only memory about the school was looking at my locker and remembering what my life used to be like. My mind was racing with a million thoughts. Instead of sitting in a seat in the auditorium, I was on the stage sitting in a wheelchair. All I could focus on was how different everything was. The experience was devastating to me.
On that day in 1984, I never imagined that I would be back at the high school, 32 years later, being inducted into the Hall of Pride as a successful alum. The fact that I had graduated from high school, attended college and law school, practiced law for the Federal Government and had a successful career, seemed unattainable. And, to be married, and happily surrounded by family and friends was something that I certainly did not expect and did not even think it was something of which I was capable.
So what happened between 1984 and 2016? Some would call it acceptance. I view it as adapting and reinventing myself to the new reality of being a quadriplegic. Realizing that the energy it took to be angry and sad was better spent on trying to be productive and making the most of my capabilities; understanding and gaining the support that I needed to move away from my rural home to a place where I could be more independent. First, I needed a college education and second, I had to move to a locale where I could achieve maximum independence.
I am, of course, limited, to some degree, by my disability,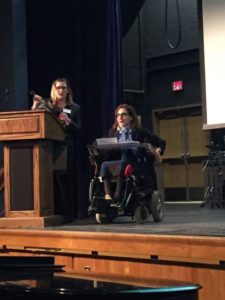 but I am unleashed with independence by my environment. I live in an area where there is accessible public transportation, and I can easily roll in my wheelchair to the grocery store, pharmacy, cleaners, movies, out to dinner and partake in a variety of other activities. I am not focused on my restrictions. Although they do exist, I am able to see the value in developing independence and capitalizing upon it.
And that is how I developed my mantra. It is not what happens in life, it is how you handle it. And while I will never forget how I felt that April day in 1984, and I do think it is important not to forget, I realize that I have grown as a person with grit, resilience and the attitude that I will continually maximize my capabilities. Most importantly though, I am happy. And finding and living that happiness is something that I appreciate each day. If it is possible for me to do that, it is possible for everyone. It doesn't mean that every single day is the happiest day ever, but the happy days outweigh those that are not. And quite frankly, that's true for everyone regardless of ability.