My Recent Experience Flying with my Power Chair
I had not flown since before 9/11 and I had never flown with my power chair, so I didn't know what to expect. But I was about to begin a bucket list trip to California and Ari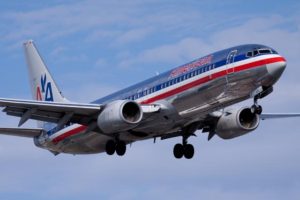 zona that included a good friend's wedding, visits with other friends and the NCAA Final Four. I was excited but also nervous as soon as I had booked my flight from DCA to LAX on American Airlines.
I read everything I could find with tips and advice for flying with a power chair. I relied on friends who had experience to give me advice on what I needed to do ahead of time and what to do when boarding the plane. I spoke to the American Airlines Special Assistance agent and had everything ready to wrap and protect my joystick. And I took a direct flight to limit the number of times that my wheelchair would need to be moved. I was ready on March 23, 2017 to start my adventure.
The results were a mixed bag. My chair did sustain damage, but it was not inoperable. The majority of staff from American Airlines were very helpful and well trained. Transfers to the aisle chair and into the seat were smooth and the aisle chair was in good condition on the trip out and on the trip back.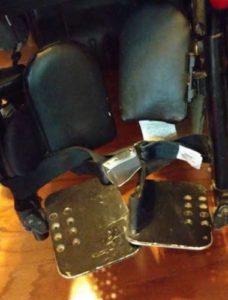 When I arrived in California my left leg rest would not connect to my wheelchair because a big piece that holds it on had broken off in transit. At that point it was late at night and all I wanted to do was pick up the wheelchair rental van so I could go to the hotel and go to bed! So we quickly figured out a makeshift solution and with the assistance of a stewardess, used a seat belt extender to wrap my foot rests together. I used that for the rest of the trip.
At the end of the trip, when we arrived back in Virginia, my joystick, despite being completely wrapped and protected, was disconnected and hanging. We used packaging tape to temporarily hold the joystick in place so I could drive. After I got home I added duct tape and a bungee cord to further secure the joystick.
However, the worst part of my flying experience did not involve broken parts on my wheelchair. It involves humiliation and treatment that was completely uncalled for.
I boarded the plane in Phoenix prior to everyone else and was comfortable on my cushion in my seat. Other passengers started boarding the plane and the next thing I knew a gentleman from American Airlines came over to me and said that there had been complaints "of an odor" and that he wanted to put a plastic bag around my cushion. I told him that I did not understand what he was saying because there was no odor and that it was not safe for my skin to be sitting on a plastic bag for a long flight. He asked if I would just "work with him," and I responded that I felt humiliated. He left and came back again and asked once more if I would just "work with him so the plane could take off." Again, I told him that I didn't understand what the problem was that I didn't see anybody complaining. I asked him straight out if he smelled anything and he answered, "No, but please just work with me so we can get the plane off the ground."
The whole situation was bizarre and I raised my voice and told him that I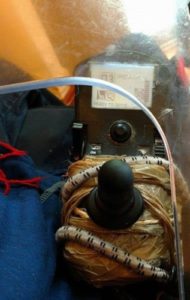 was just being humiliated but I would try to do something so that the plane could take off. There was a final compromise that my cushion would be wrapped with two blankets (I have no idea what that accomplished). Then, in front of everyone on the plane, they brought the aisle chair back, lifted me onto it, wrapped my cushion with two blankets and put me back on the cushion in the seat.
One of the individuals operating the aisle chair whispered in my ear that he thought what was going on was completely uncalled for and took my name and said that he was going to report it to his supervisor. I have no idea if he did or he didn't, but soon afterwards the plane took off, 25 minutes late.
I contacted the disability hotline at American Airlines and I received a call the next day from a representative in their executive office. I relayed this entire story and received profuse apologies. I was told that they would provide me with a credit voucher, but I have not received anything yet. They did promptly resolve my baggage/wheelchair issues and have already ordered the parts. At least three individuals called me within a period of a couple of hours so they deserve credit for that.
I won't stop flying, and I will likely use American Airlines again. I don't have enough information to blame a specific person for the humiliating incident, but still wonder what the problem was. Did they not want to deal with me? I didn't smell so I have no idea why they were so adamant about wrapping my cushion. I am hopeful that American Airlines will investigate the incident and figure out the root cause of the problem.
I have recovered from the humiliation and the jet lag, but I am still waiting for the replacement parts for my wheelchair to arrive. In the meantime, I'm hoping that my chair continues to work.
https://happyonwheels.com/my-recent-experience-flying-with-my-power-chair/